The reaper is often unforgiving when confronting its victims. Detaching from others makes the task tolerable for the most part, yet once it's time to face his own demons, there is often hesitation. How should he face them? Should he be brash and impulsive? Or Introspective and surgical?
The solution becomes much harder to find when the trauma occurred years earlier. Imagine living in Greensboro, North Carolina, dropping out of school, getting kicked out of your mama house, crashing couches, and rapidly becoming immune to the world around you at the age of 16. The reaper didn't always feel this way.
"At first it was J.K. The Rapper", J.K. The Reaper said with a laugh. "but I changed the name to J.K. The Reaper cause I became dead to everything around me."
Nine years ago, he would have never thought he would still be alive, let alone see the release of his debut album Digital Tears. In confronting his demons J.K. found himself, his sound, and most importantly, peace in a world that offers very little of it.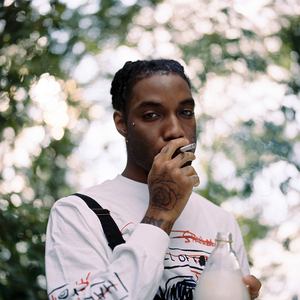 The album concept came about in the middle of an acid trip six years ago. In the midst of looking back at everything that had transpired into his life to that point, a single tear dropped to his phone. Something hit him at that moment. He perceived his phone to be melting in his hand which caused him to throw it to the wall. An idea that later become an obsession.
For many, the odds of making it out alive in his conditions would be slim to none. The very same could be said for breaking through a saturated art form many see as an escape from their despair. Music is a form of therapy for people around the world, but also serves as a cash flow.
Before this album, J.K. exclusively dropped singles. He wasn't concerned about building a catalogue. He was just rapping for the fun of it. As a way to escape his environment, even if it only provided temporary relief. It wasn't until he met DJ Drama that his life changed for the better.
It was in 2008, right after Fabolous dropped the first volume of his There Is No Competition mixtape series. DJ Drama was at mall passing out hard copies of the mixtape. At this time, J.K was not willing to take such as risk to walk up to DJ Drama. A friend of his dragged J.K. towards the popular DJ and began vouching for his him and friend. Drama not only handed the boys a copy of the mixtape but his email, insisting that they send him music so he could check them out.
To be acknowledged by a figure like DJ Drama at 15 years old was more than enough for him to decided what he wanted to do in his life. But strangely the reaction upon exchanging contact information with him was dejection. Deep down, he knew he wasn't gonna hear back from. He went home and emailed him the tracks. Weeks on end went by, yet nothing come out of the interaction. No sense of disappointment occurred, because there was no exception to begin with.
"At that moment, i started to take it seriously." He said. "To be honest, I wasn't expecting him to email back anyway."
The more he worked on Digital Tears, the more controlling he became. Over 300 beats were sent to him and over 100 songs were recorded, several tracks recorded multiple times, each version sounding completely different from each other. Ever single detail was carefully crafted.
An underground legend in the modern-day era of hip hop was going towards the deep end in terms of his style and his art. Experimenting with flows and production, challenging himself to improve upon his craft.
Digital Tears begins with heartbreak on the opening track "Emulate", you hear a man who being by broken promises, questioning the unnamed assailant loyalty and commitment. The production is slow build up to that never reaches it apex as it quickly fades away as J.K. stops rapping. The signs that an emotional roller coaster is underway. But how he started off the song is what caught my attention the most.
"LSD dream/ emulate love"
A simulation that feels all to real. An emotion that easy to say in a word but difficult to feel or express through actions.
"Purple & Pink" shows a man whose compulsion for his former lover has taken a turn for the worst. He can't stop thinking about her yet he swears he's over her, triumphantly disregarding her in the first verse only to implore her for return in his second verse.
But the album is not solely about heartbreak. It starts off as JK when he was 16 years old, slowly progressing through events that has affected his life over the past 7 years. A teenage love affair was just the start for about who was just trying to find his way.
"Drunk/Drowning" takes you a place where the world that once filled with colors has become black. The screams for help were swallowed up by his environment. Begging a former lover to seep in the deep end with him, listening to him lament to those who have let him down, including her.
The second half of the "Drunk" evolves into punk rock, screaming out his pain, trying to make sense of everything that has transpired over his life.
"Drowning" slows down and you get the kind of introspection that's hard to come by when dealing with so much pain. He can't seem to liberate from this depression. Even when making this album, life hasn't been kind to JK (who did not disclose what exactly went on during his life) and admitted that he cried once he finish this album.
The album takes a turn to his present mind state on the track "Children", scolding America for conditions he had to overcome to reach success. Berating America for making him believe he was the problem for not only his demise but the people he loved most. Touching on mental illness in the black community, his journey as an artist really expose you to who JK is today and what's on his today.
Coming off a favorable release of his debut album, JK has already begun working on his second album, started writing a novel titled "Purple & Pink" inspired by "The Oxygen Thief". His artistry extends beyond music. From being a teenager who wanted to do music to escape from the never-ending pain to an artist who refuses to conform to the norm. The growth was obvious during my two-hour conversation with JK.
The ending track "Athena & Poseidon" is powerful track that closes the album again questioning the state of America, the tragedies he has experienced in his life. Regardless of all that pain, he has overcome his demon.
"I am God/I'm human and I'm real"
When I asked J.K. where he sees himself in 5 years, I expected to hear about being one of top rappers in the game, selling out Madison Square Garden, obtaining platinum plaques like jewelry. To my surprise, the answer was much more simpler.
"In 5 years, I'll be Arizona somewhere near the desert with my boys and couple of ATV's and bikes, just riding."
When dealing with his own demons, the reaper learned he doesn't have to slay them to reach the state of elation he seeks. There are traumatic episodes seamed with moments of joy that are difficult to scythe. Life is good for him now and it will only get better. Digital Tears is an album based on his story but is intended to help others cope with theirs.